Gaza /PNN /
Dr.. Abu Holi meets with the delegation of the European Union and discusses with him the needs of the Palestinian camps
Palestine Liberation Organization Executive Committee member, head of the Refugee Affairs Department, Dr. Ahmed Abu Holi discusses with European Union Representative Office delegation in Palestine, ways to enhance prospects for joint cooperation and partnership to improve services in Palestinian refugee camps, support vital projects of priority and need, and financial support for the UNRWA budget for the year 2023.
Dr. Abu Holi spoke during his meeting with the European Union delegation at the PLO Refugee Affairs Department headquarters in Gaza City about Palestinian refugees conditions in the camps and ways to secure a decent life until a political solution to their issue is found in accordance with what was stated in Resolution 194, as well as the decision of the United Nations General Assembly to increase its financial contributions to support UNRWA budget.
Dr. Abu Holi called on the European Union to raise its financial contributions for the current year, commensurate with the increase approved by UNRWA in its regular budget for the year 2023 by 3.8%.
Abu Holi thanked European Union for its support through the bilateral agreement signed between EU & UNRWA for multi-year financing of the UNRWA regular budget in the amount of 246 million euros over 3 years from 2021-2024.
The European Union is considered the third major and influential donor to UNRWA, after its donations amounted to more than $106 million for UNRWA's regular budget in 2022, Abo Holi said.
Abu Holi, talked to the European Union delegation about the conditions of refugees in the camps in light of the deterioration of living conditions, with the spread of poverty and its high rate to 90% among refugees, food insecurity to 65%, unemployment to 60% and the high prices of basic commodities.
For its part, the European delegation affirmed the European Union's continued support for the UNRWA budget, stressing the importance of the vital and humanitarian role that UNRWA plays in caring for and serving the Palestinian refugees.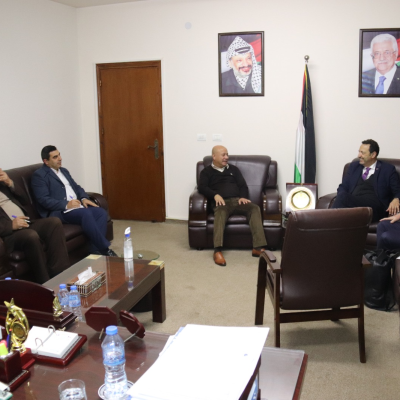 The delegation also stated that the European Union will disburse the first installment of its funding to support UNRWA in February.
He stressed the importance of project to develop water networks in the Palestinian camps in the Arab host countries, pointing out that the technical study of the project was financed in coordination with the Network of Arab Water Experts, in order to determine the needs and cost for its future implementation.
The meeting was attended by Rami Al-Madhoun, Director General of Information and UNRWA Studiesو, Director General of Camps in the Southern Governorates Dr, Adel Mansour, Director of refugee affiers department officein Gaza Nabiha Al-Hafi from the Palestinian side and Ibrahim Al-Afia, Head of the Cooperation Sector at the European Union Representative Office in Jerusalem, Eduardo Cuomo, Head of the Operations Department, Economic Support and Social Development, and Ayman Fatiha, Director of the European Union Office in the Gaza Strip from the European side