Bethlehem / PNN /
Cities and regions worldwide witnessed solidarity events and marches in support of Palestine, urging their governments to work towards stopping the genocidal war waged by Israel against the Palestinian people. This war has resulted in the martyrdom of around 12,000 Palestinians, in addition to the loss of 3,600 lives under the rubble and the injury of at least forty thousand in a continuous aggression targeting civilian neighborhoods and hospitals in an Israeli violation of all international covenants and norms.
The condemnations of the war have taken an escalating turn in light of the inaction of politicians worldwide, especially those expressing support for Israel in executing the massacre against innocent Palestinians. The United States, the United Kingdom, Canada, and others have shown political support for Israel's aggression against innocent children and civilians, describing it as self-defense.
Prominent events unfolded in the city of Vancouver, Canada, where about 250 protesters surrounded the Canadian Prime Minister in a local restaurant. They demanded action to achieve a ceasefire instead of expressing support for Israel. Some youths entered the restaurant, questioning the Canadian Prime Minister, asking how many children must be killed to stop the war. They demanded action to halt the gunfire. Upon leaving the restaurant under police protection, he faced chants of shame.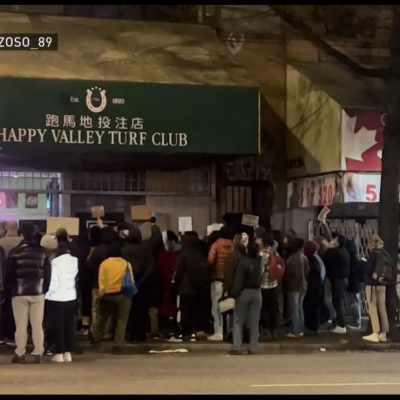 Reports in Canada stated that protesters raised Palestinian flags, chanting slogans urging the Canadian Prime Minister to stop the gunfire. They approached the restaurant from two sides, preventing the Canadian Prime Minister from leaving, prompting police intervention. The restaurant was closed, and the Prime Minister was evacuated under tight security.
During these events, scuffles occurred between protesters and police, with the Deputy Chief of Police announcing the arrest of two protesters on charges of assaulting police officers. One was arrested, and it was decided to bring him to trial, while the other person was released.
In the United States, particularly in the American capital, hundreds of protesters closed the doors of the Democratic Party headquarters, which governs the United States. They refused to vacate the entrance and attempted to storm the headquarters to express their anger at the biased American policy led by Joe Biden.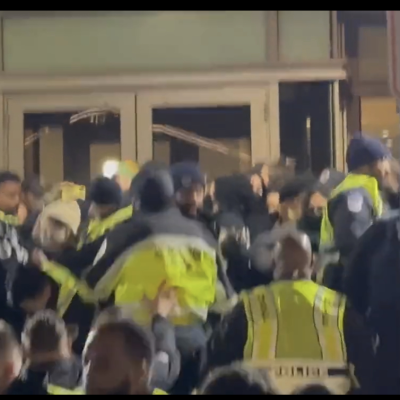 In Japan, specifically in the Japanese capital Tokyo, Japanese media reported that the police arrested a man after a car collided with a barrier near the Israeli embassy in Tokyo to express anger at Israel's war crimes against innocent people in Palestine.
In the British capital London, thousands gathered in front of the British Parliament during a session to vote on the stance with the genocidal war. Hundreds of participants attempted to storm the British Parliament headquarters to express their anger at their country's policy supporting the Israeli aggression against children, women, and civilians in Gaza.
In Finland, a Finnish activist shouted at the far-right Finnish Prime Minister, "How do you feel after the mass killing? 370 million euros to Israel? Do you know that 4,000 children have been killed so far?"