London/PNN/ Roddy Keenan -
Over one million people marched through the streets of London on Saturday to call for a ceasefire in Gaza and express their solidarity with the people of Palestine.
The march was one of the biggest in UK history and the largest since the anti-war marches of 2003, when the British public protested against UK participation in the illegal invasion of Iraq.
From just after midday, men, women and children marched, amidst a sea of Palestinian flags, towards the US embassy, where a rally was due to take place. Children with faces painted in the Palestine colours, waving flags and placards, and holding on tightly to their mothers or fathers hands, joined in chants calling for an end to the brutal slaughter of the children, mothers and fathers of Gaza.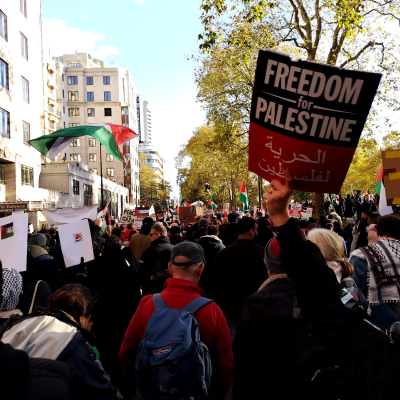 Yet, at three o'clock, the cacophony of noise stopped. And for two minutes, the marchers fell silent to remember those whose lives have been taken by the genocidal Israeli regime. Around a stage where speakers were addressing the gathering tens of thousands, screens showed images of many of those who had been killed. And amidst the silence, demonstrators struggled in vain to hold their emotions in check, as they wiped away their tears.
The peaceful nature of the march, the inclusive atmosphere, and the outpouring of compassion and love expressed for the people of Palestine, served as a powerful rebuke to the shameful characterisation of the gathering as a 'hate march' by UK Home Secretary Suella Braverman.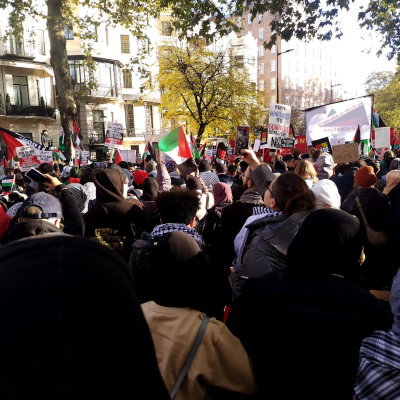 In the days prior to the demonstration, Braverman had been seeking to prevent the event taking place on the spurious charge that it was a threat to law and order. However, London's Metropolitan Police said they saw no such threat and that the march should go ahead.
Meanwhile, UK Prime Mister Rishi Sunak had grotesquely charged that marching on the same day as the anniversary and commemoration of the end of the first world war was 'disrespectful.' The absurd accusation that taking to the streets to call for a ceasefire and an end to genocide, on the anniversary of another notable ceasefire, was inappropriate, reflected the UK government's pathetic desperation to silence critics of its complicity in ethnic cleansing and slaughter in Palestine. But it failed. And failed utterly.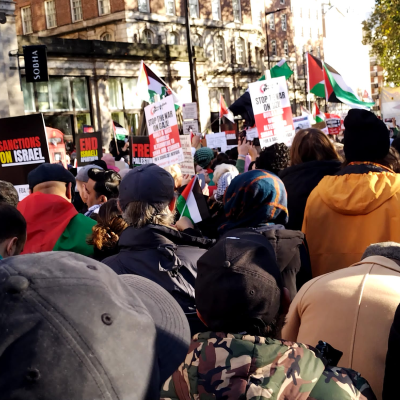 For as the million that marched in London have shown, alongside the millions that marched elsewhere around the world this weekend in support of the Palestinian people, the public will not be silenced.
And until the barbarism in Gaza ends, until the apartheid regime is no more, and until Palestine is free, streets around the world will continue to resonate with the unwavering sound of solidarity.