London/PNN / report by ~Roddy Keenan
For the second successive Saturday, tens of thousands of demonstrators took to streets across the UK and Ireland to express their support for the Palestinian people and to voice their opposition to the ongoing ethnic cleansing operation of the Israeli Occupation Forces in Gaza.
The biggest demonstration took place in London, where 300,000 people marched through Central London to the UK Prime Ministers' residence in Downing Street. Once there, a series of speakers addressed the tens of thousands massed before them.
The event was organised by a number of groups, including Palestine Solidarity Campaign, Stop the War Coalition, Friends of Al-Aqsa and the Muslim Association of Britain.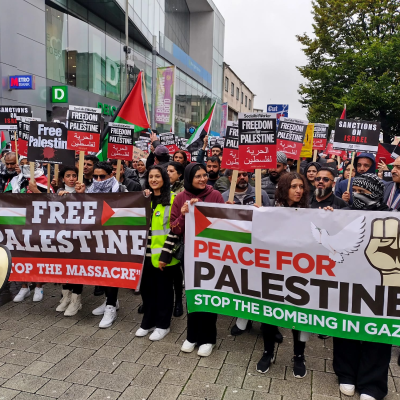 Explaining the reason for the demonstration, Palestine Solidarity Campaign Director Ben Jamal said the event was taking place to call for an end to the violence in Gaza, and an immediate ceasefire to allow necessary humanitarian supplies to be delivered safely to the Gazan people.
However, the PSC Director pointed out that violence would ultimately continue until 'Israel's decades long imposition of a system of military occupation, colonisation and apartheid' came to an end.
Finally, Mr Jamal explained that those marching to the gates of Downing Street were doing so to affirm their unequivocal opposition to the UK government's 'complicity with Israel's commission of war crimes.'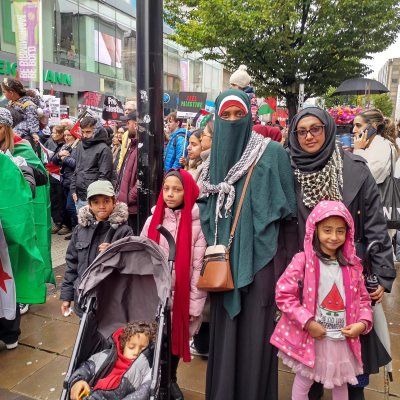 Addressing the thousands of demonstrators gathered outside Downing Street, the Palestinian ambassador to the UK, Husam Zomlot, offered a defiant message.
They may kill us, they may destroy our homes, they may kill our children, they may starve our children, but I tell you, they will never, ever, kill our hope,' the ambassador declared.
Outside of London, rallies and demonstrations took place across the UK, with thousands turning out at events in Birmingham, Manchester, Glasgow and Cardiff, and in numerous other towns and cities across England and Scotland.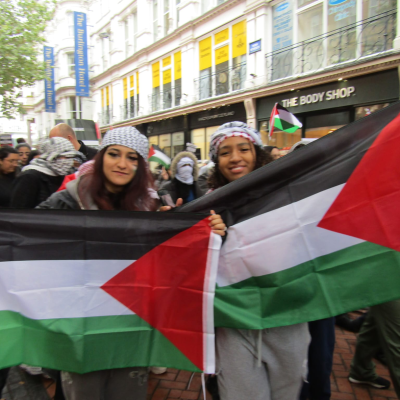 In Ireland, tens of thousands of Irish people took to the streets once again to show their solidarity with the people of Palestine and to voice their opposition to the genocidal actions of the Israeli Occupation Forces. While sizable demonstrations took place in cities such as Dublin, Cork, Belfast and Galway, thousands of others attended local demonstrations throughout the country.
Once again, the people of Ireland and the UK have made their views clear. The brutality, barbarism and bloodshed must stop.
The ethnic cleansing must end.
And Palestine must be free.