Bethlehem/PNN/
Yazen Zait, a Palestinian fashion designer, is knocking on the international doors with his exhibition in Italy, carrying the messages of the Palestinian cause within the folds of his designs.
Zait, the designer, mentioned in an interview during the "Our Different Morning" program aired on PNN television and hosted by colleague Malaak Abu Hamad, that he studied design in Italy and became a design instructor at prominent Palestinian universities like Birzeit University and Dar Al-Kalima. He aspires to see advancements in the clothing design sector, much like in many countries worldwide, where design and fashion industry constitute significant sources of income.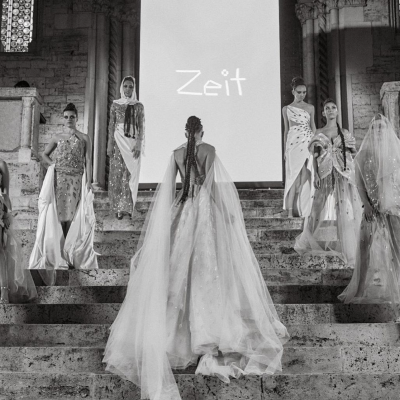 Regarding his talent, Zait explained that it emerged during his childhood through his drawings. Despite opposition from those around him regarding his pursuit of fashion design studies, he remained committed to his passion, which has now propelled him to become a well-known fashion designer after rekindling his fashion design studies in Italy following a career in public relations.
Zait has been working in the fashion design sector for several years, opening his own design studio. He has held four shows in Palestine over the past four years. Reflecting on his journey, Zait mentioned that the first show received strong positive reactions and encouragement from those around him, becoming a significant turning point in his career. Without that initial show and the encouragement, he might not have reached the level he has today, traveling from Bethlehem to Beit Jala and now to Italy.
He explained that his designs for the Italian exhibition were inspired by the olive tree, incorporating a Palestinian touch by naming the exhibit "Zait," referring to olive oil and the olive tree, symbolizing resilience and endurance in an artistic manner.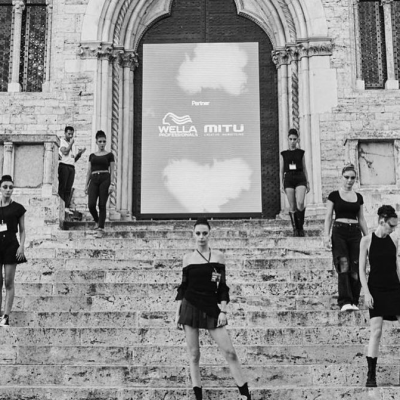 Zait emphasized the importance of conveying the Palestinian reality, life, and struggle, amidst the ongoing conflict with the Israeli occupation, through the dresses he designs.
One of his most successful designs was the "wedding dress," where he integrated olive leaves and the map of Palestine into the dress's details, resembling an eagle, a symbol of Palestinian strength and will.
He mentioned infusing a European blend into his designs within Palestine, aiming to differentiate them from the culturally established norms in designs. However, when exhibiting in Italy, the focus was on delivering a message, shedding light on the Palestinian cause.
Zait pointed out the challenges that designers face in Palestine, notably the lack of significant interest from people in purchasing their designs. He understood that Palestinians prefer designs unique to them due to the challenging economic situation, expressing his understanding of their perspective.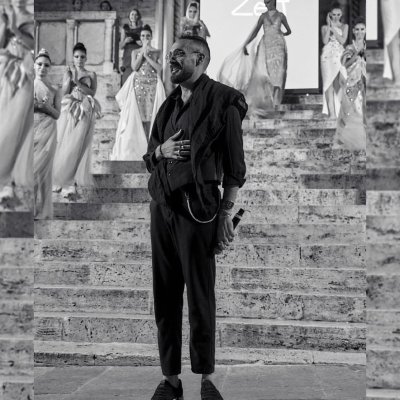 He stressed the necessity of increased support and attention towards designers by institutions, ministries, and municipalities to highlight Palestinian talents. Zait also highlighted the difficulty in obtaining various fabrics locally, often necessitating purchases from the occupied territories, leading to higher prices due to their expensiveness, hindering opportunities for designers.
Weaving Identity in Threads: Yazen Zait's Designs Elevate Palestinian Narrative on International Platform
Sharing his experience before the Italian showcase, Zait expressed concerns about the occupation, fearing the confiscation of his designs or his arrest at the borders due to the messages conveyed through his designs regarding the Palestinian cause.
He conveyed his immense contentment and self-satisfaction after exerting extensive efforts and facing physical and mental exhaustion to reach this international exhibition, stating that this achievement did not come overnight but followed a long path of hard work, challenges, and exhibitions, leading to the realization of his grand dream of showcasing in Italy.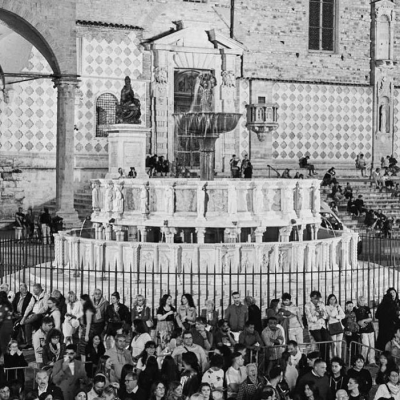 Zait conveyed his future aspirations, hoping to see his designs gracing the red carpet and executing international shows where Palestinian models known for wearing his designs would participate.
The young Palestinian fashion designer urged all official and private institutions, as well as the private sector, to execute and support projects that bolster the design sector and designers in Palestine, shedding light on their talents that serve our cause and heritage