Jerusalem /PNN/
Diplomatic missions call on Israel to halt all confiscations and demolitions in the occupied West Bank, to return or compensate for donor funded humanitarian items and to give unimpeded humanitarian access.
The European Union said it was appalled by the Israeli settlers' attacks against Palestinians in the villages of Burqa and al-Mughayyer in Ramallah, which resulted in injuries and the destruction of Palestinian homes.
"UN data shows a trend of increasing and more violent settler attacks against Palestinians in the oPt," said the EU in a tweet.
The EU condemned settler violence and called on Israel to take decisive steps to ensure accountability and protect the Palestinian civilian population in line with its obligations under international law.
The consortium of missions call on Israel, as the occupying power, to halt all confiscations and demolitions and to give unimpeded access to humanitarian organisations in the occupied West Bank, including East Jerusalem.
Through official channels, the missions have called on Israel to return or compensate for all humanitarian items funded by the consortium of donors. The total value of donor-funded items, which have been demolished, dismantled or confiscated since 2015, is estimated at 1,291,000 EUR.
Furthermore, the missions have strongly condemned the recent demolition of the donor-funded school in Jubbet Adh Dhib and expressed their grave concern about the threatened demolition of another 57 schools in the West Bank. These include the Khasem Al-Karem School in Hebron and the Ein Samiya School in Ramallah, the latter in a community forced to abandon their lands due to settler violence and harsh restrictions.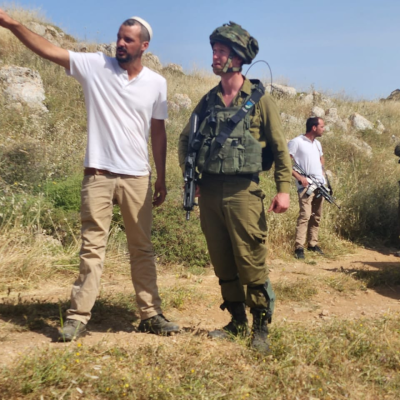 In their communication with the Israeli authorities, the planned forcible transfer of more than 1,100 affected Palestinians currently residing in Masafer Yatta was furthermore raised as a matter of grave concern, while the prohibition of forcible transfers in International Humanitarian Law was underlined. Similar concern was expressed about the pending demolition of Khan al-Ahmar and the potential forcible transfer of the 48 Palestinian families living there.
Condemning settler violence in the strongest terms, the diplomatic missions addressed Israel's failure to protect Palestinians and prosecute violent settlers. Alarmed by recent incidents in Huwara, Burqa and elsewhere, the missions underlined their concern about continued and dangerous statements, which can incite further violence, and stressed that partners on the ground consider that settlement expansion has resulted in increased settler violence. The missions reiterated that settlements are illegal under International Law and called on Israel to cease the policy of settlement expansion and of denying Palestinian development in the occupied West Bank.
The missions condemn the killing of Palestinians and Israelis alike, while stressing the record high number of individuals killed this year in the West Bank, including East Jerusalem.